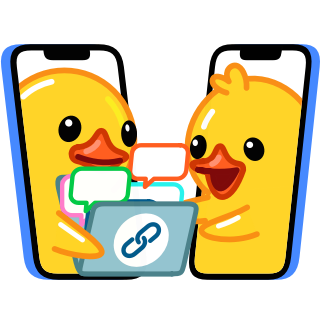 Any user can easily create a custom chat folder with up to 200 chats — and share it with friends, coworkers or followers by sending a single link. With just one tap, the recipient can conveniently join every group and channel in the folder.
This unlocks a seamless onboarding process for companies, enables journalists and experts to rapidly share lists of curated news sources and communities, and more.
Any folder can have multiple links that share different sets of chats.
Creating Chat Folders
To create a chat folder, go to Settings > Chat Folders on any Telegram app. Pick the chats you'd like included, and give it a name – your folder will appear as a separate tab in your chat list, like Work or News.
Chat folders can have up to 200 chats each – and any chat can be added to multiple folders.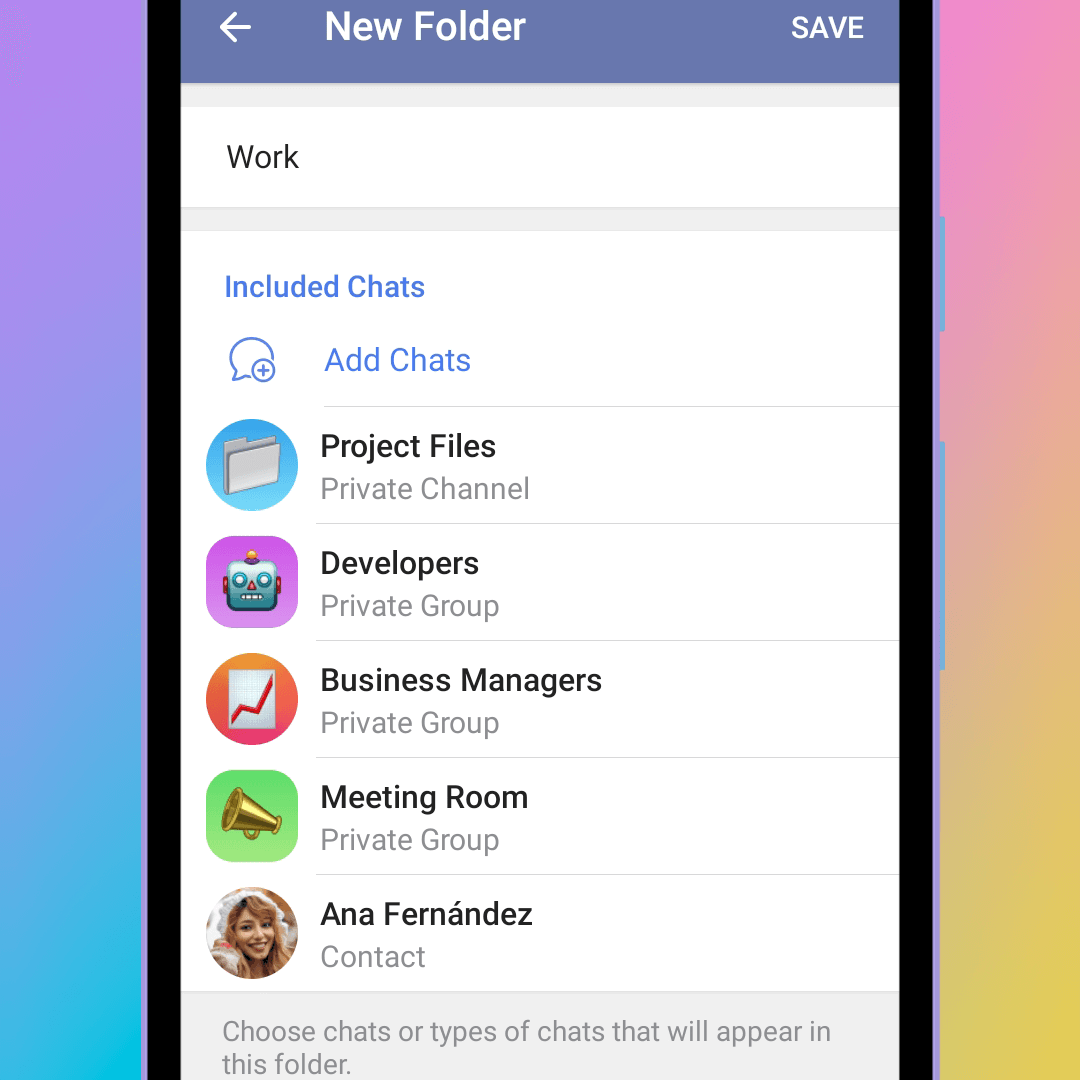 If you want to share your folder with others, do not include or exclude 'Chat Types' like 'Groups', 'Channels' or 'Unread '.
Sharing Your Folders
To share your folder, long press the folder name in your chat list and select 'Share' – or open the folder in Settings > Chat Folders. This will create a new invite link for your folder. You can choose which of the chats from the folder will become available to the people with this link.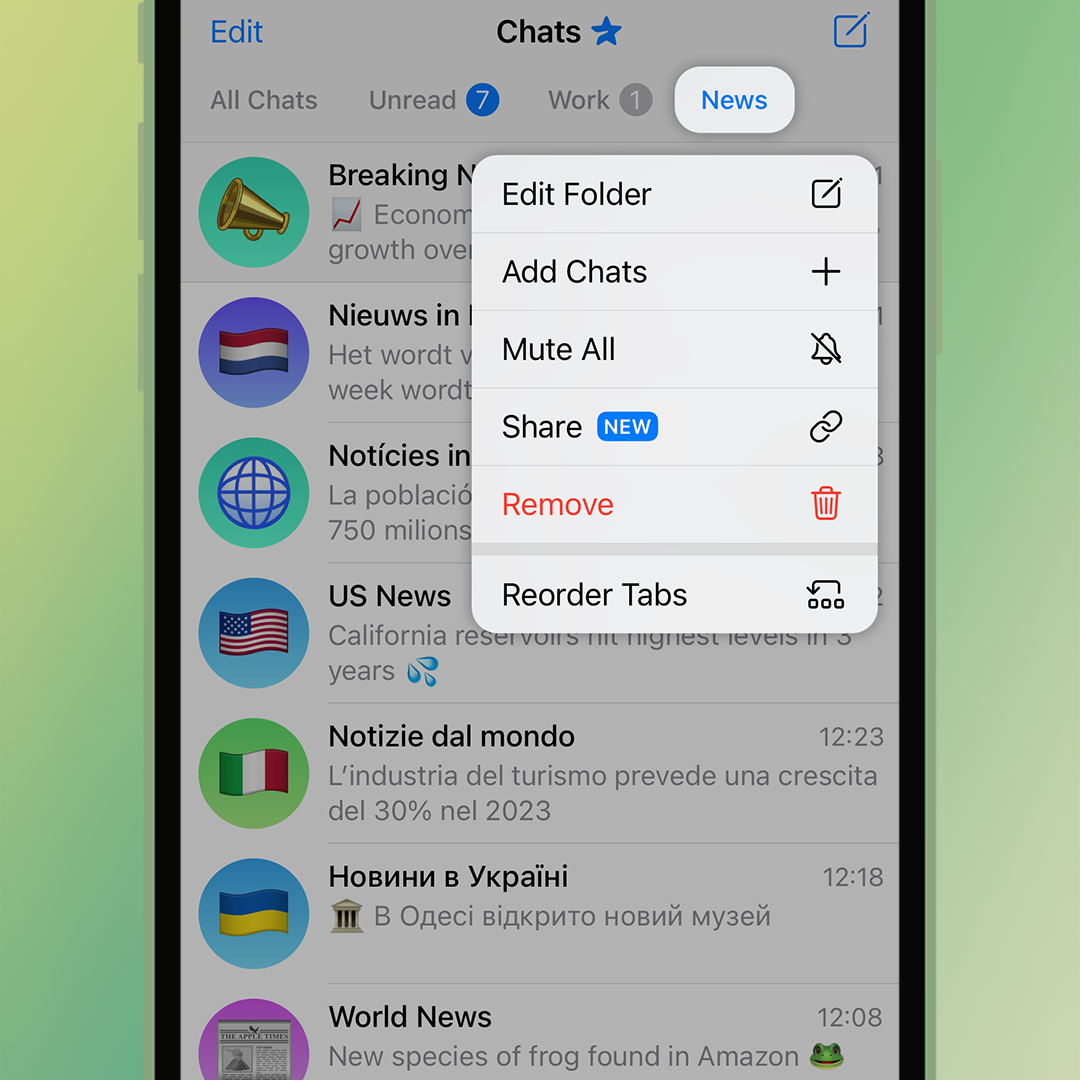 Tap

on Android or

on iOS to give the link a distinctive name or generate a QR code.
Folders that use filters like 'Groups', 'Channels' or 'Read ' can't be shared.
Choosing Chats to Share
When creating an invite link, you can choose any public groups or channels as well as private groups and channels where you have the admin right to invite users. Individual users and bots can't be shared together with the folder, but users can add them manually later.
Sharing a folder with someone allows them to directly join all its chats – even ones that normally need Join Requests (for this reason, only admins can add public chats with join requests to shareable folders).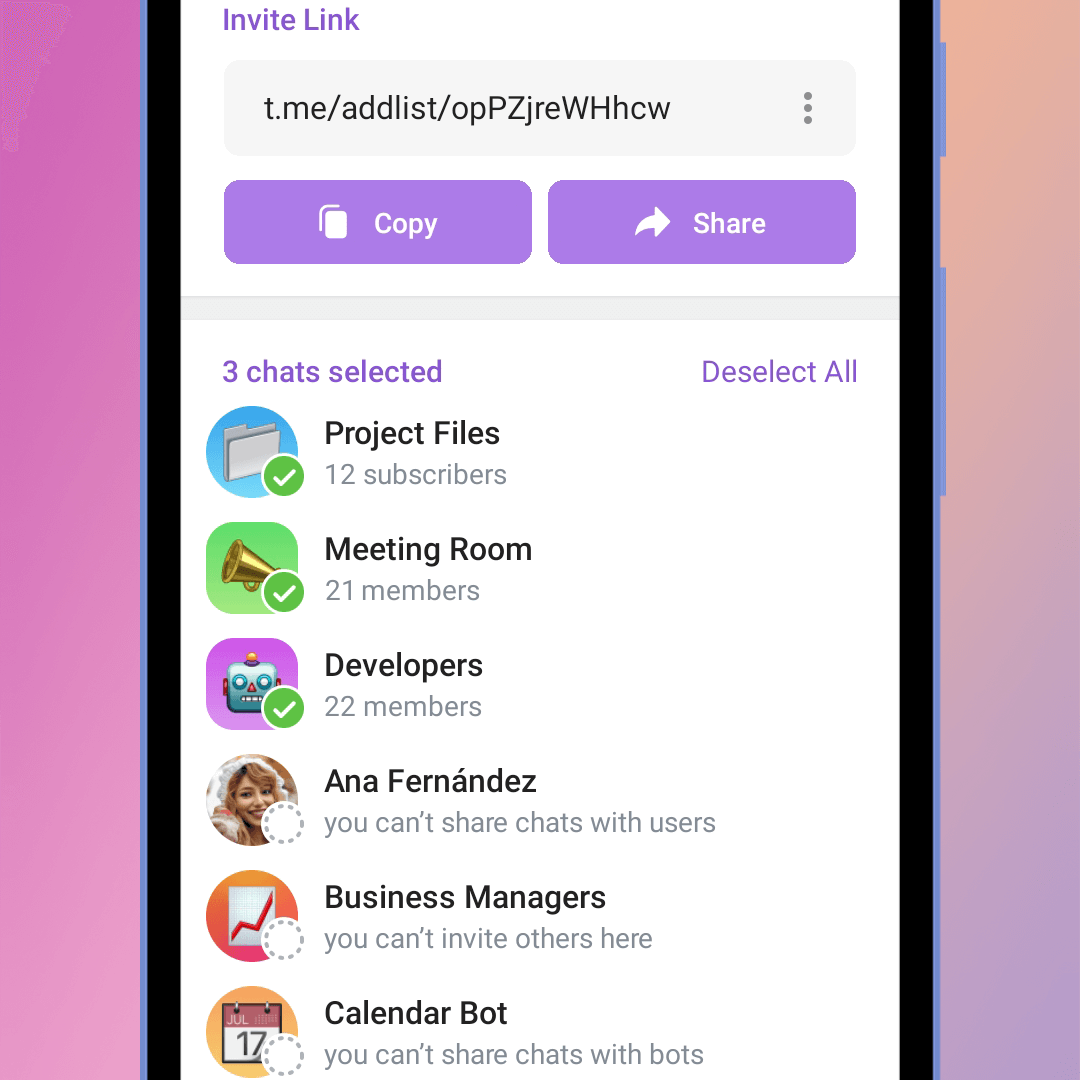 After selecting the chats, you can copy the invite link or instantly share it. When a recipient follows the link, they'll receive an invitation and preview of the folder – after accepting, they'll be added to every chat and the folder will appear in their chat list. If they later remove the folder, they can also leave all its chats in one tap.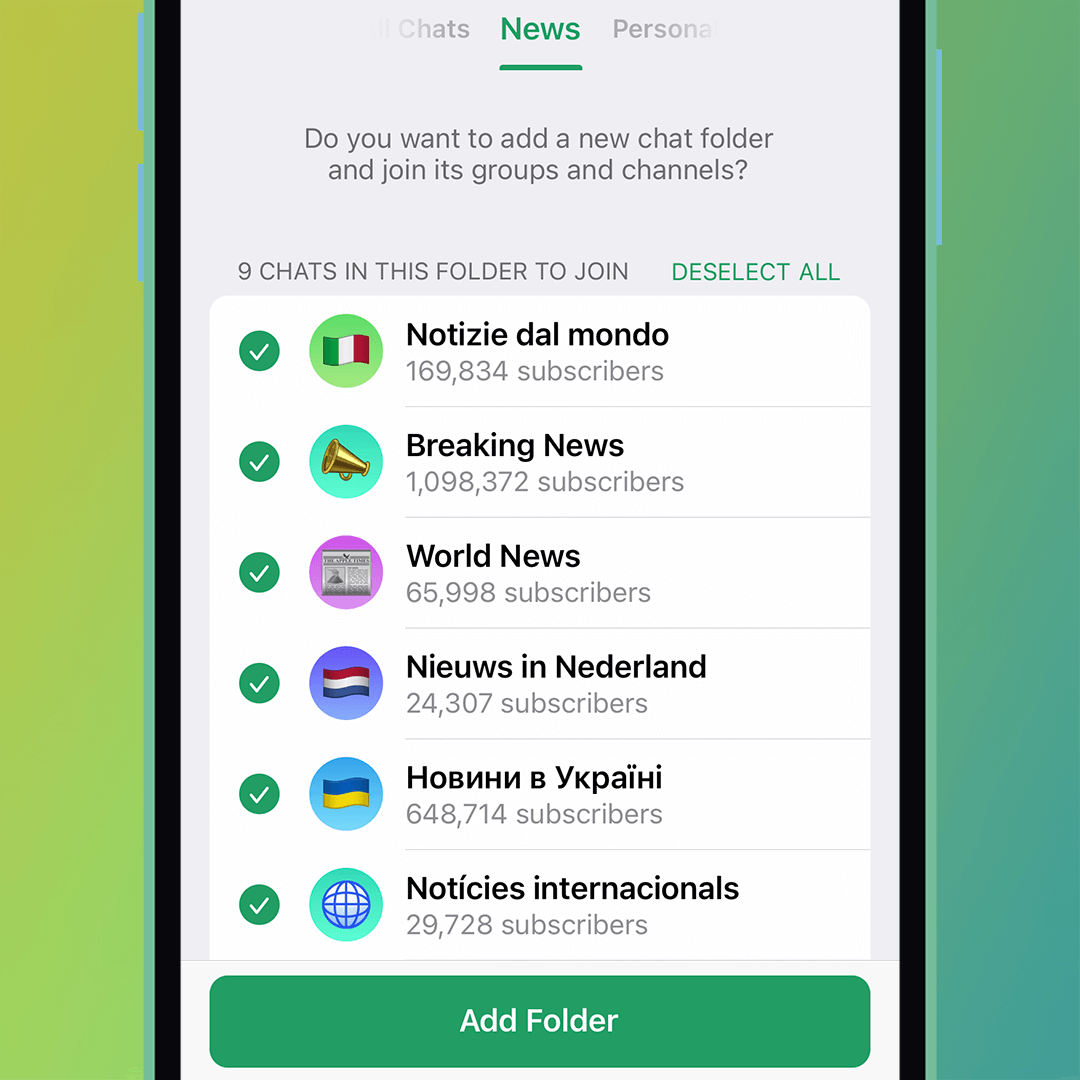 Chats that you can't share with a link and those you chose not to share will remain in your personal version of the folder – you can keep using it normally.
Managing Access Levels
Folders can have up to 100 unique invite links – each one giving access to different chats. For example, you might create a 'Manager' link that shares all chats from your Work folder, while 'Intern' unlocks just 2 or 3.
Similarly, someone whose News folder has channels in multiple languages might want to make separate English and Spanish links – or ones for World News and Local News.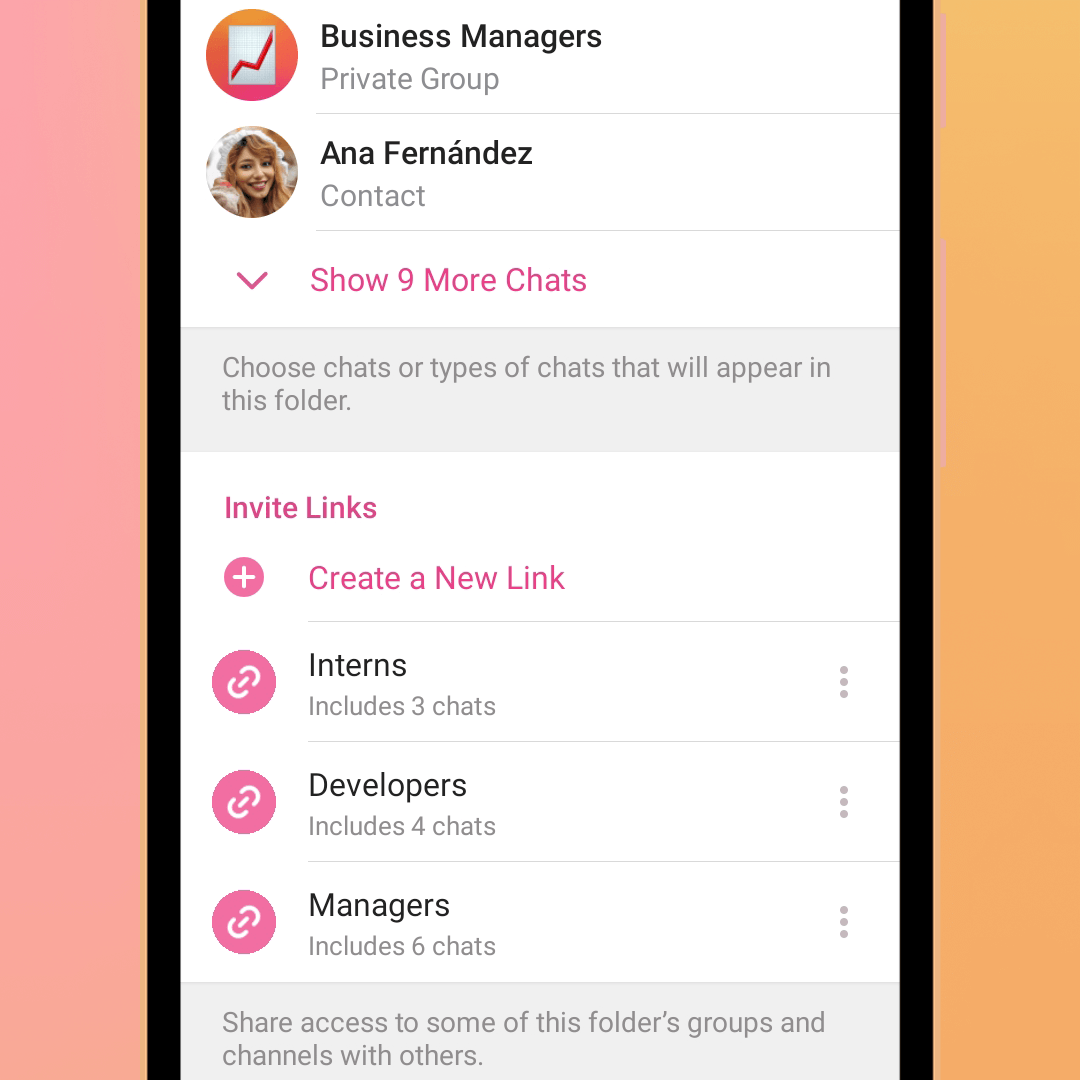 You can upgrade the access level of any user that added your folder by sending them a different link – they will get a chance to add the chats they're missing to the same folder.
Naming Links
You can easily organize different access levels by giving each invite link its own name. To do so, long press your folder's name and select Edit folder, then tap on a link >

on Android or

on iOS > Edit name.
The link names you choose are private and won't be shown to other users.
Updating Folders
When you add new chats to your folder, they will not automatically appear for users who added the folder via an invite link. This is useful, in case you need to add some chats for your own convenience.
If you want the folder to be updated for other users, you can update an existing invite link, adding new chats. Anyone who used that link will be prompted to join the new chats.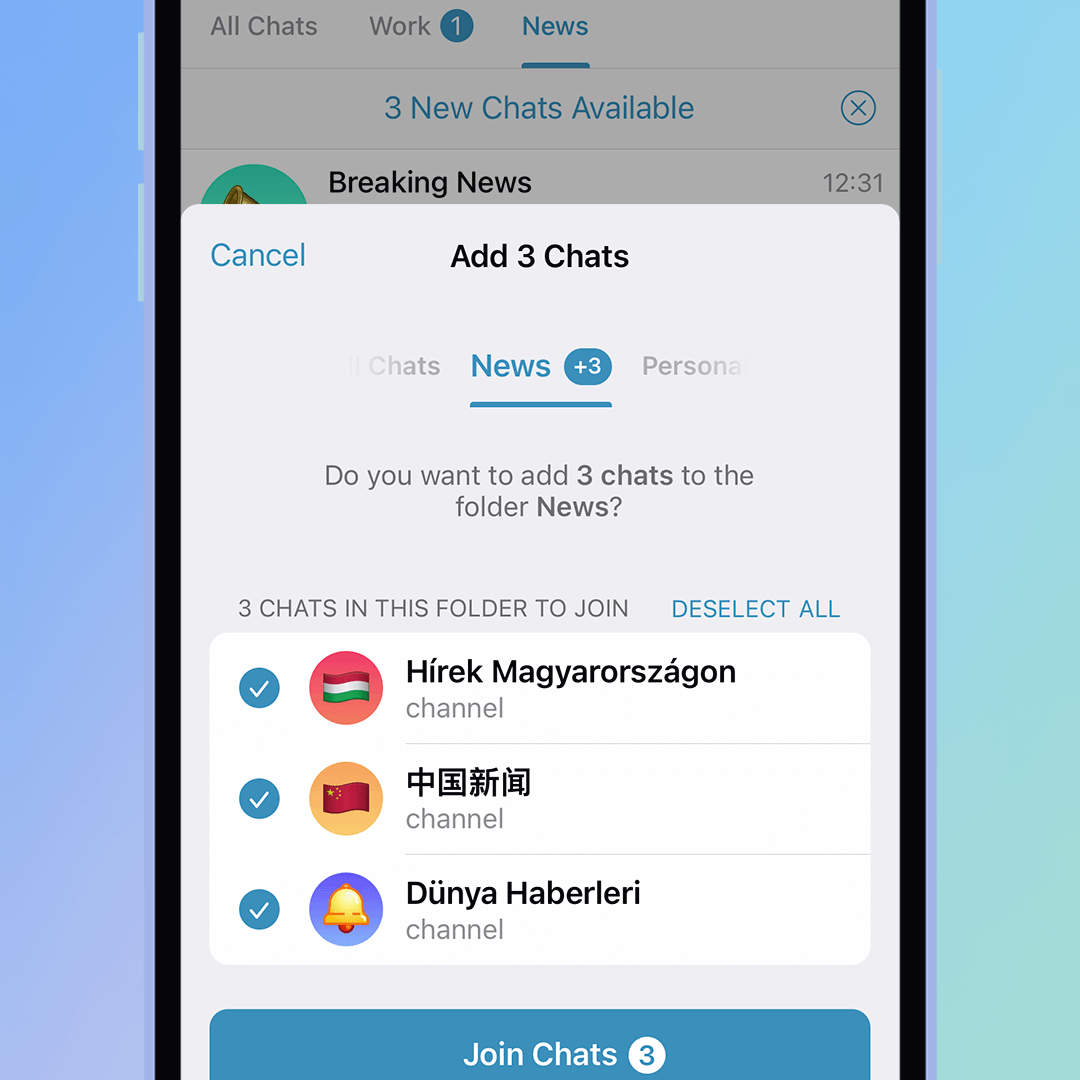 To update a link, select the folder from Settings > Chat Folders, tap the link, then select the new chats you'd like to include.
Customizing Folders
After users add your folder via an invite link, they can customize it by changing its name, adding their own chats or removing others. For example, users who added a Work folder you shared with them could add 1-on-1 chats with colleagues from their own department.
New chats you add to the folder will not be shared automatically. If you manually update the invite link, users who added your folder will get a suggestion to join the new chats.
Premium Features
All Telegram users can add 2 shareable folders, each containing up to 100 chats – to join colleagues or share interests with friends. Subscribers of Telegram Premium unlock 20 shareable folders with up to 200 chats each, and can create up to 100 different invite links per folder.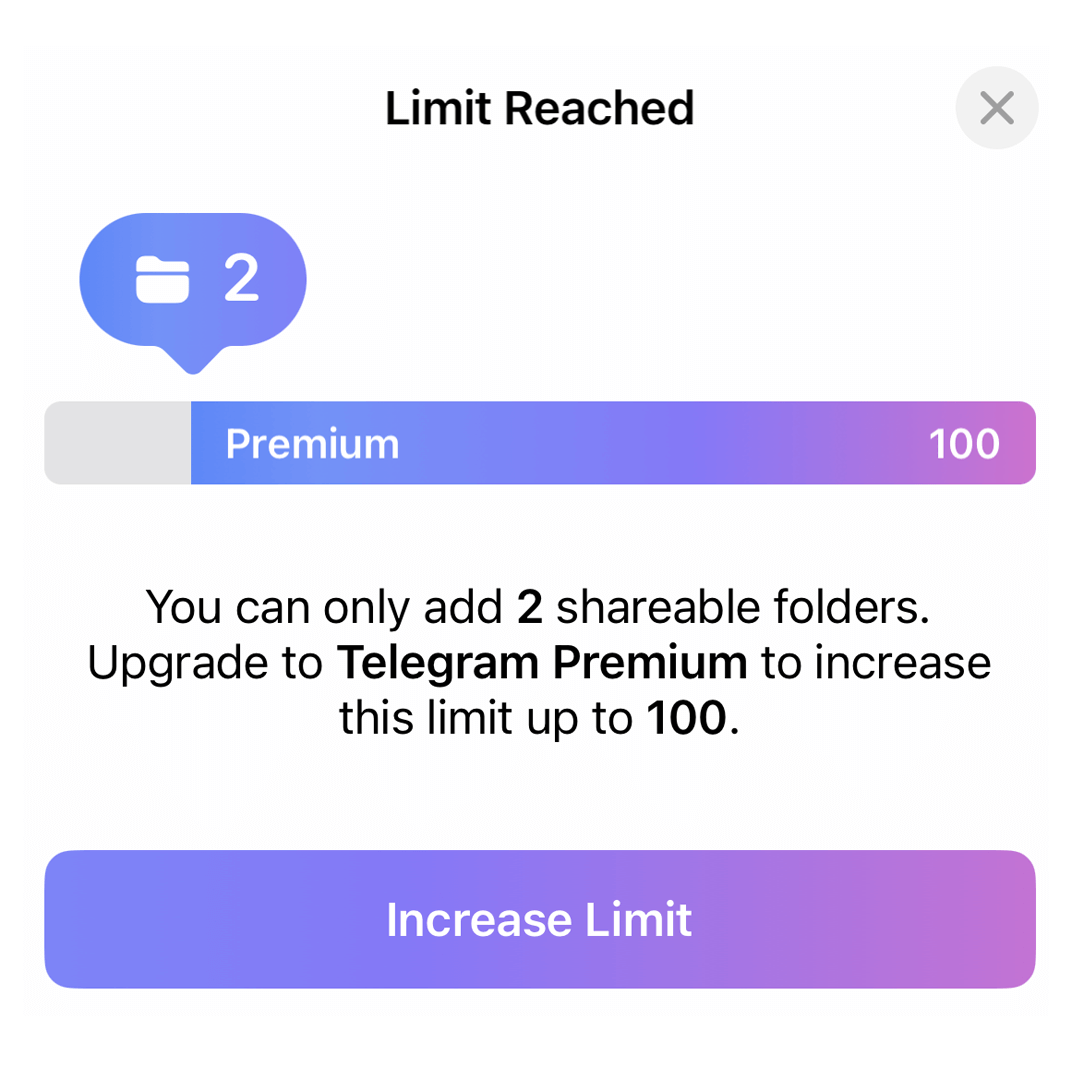 Like with all Telegram Premium features, this is just the beginning – expect even more powerful functionality with future updates.
Premium subscribers also unlock Advanced Chat Management options – like setting a default folder.