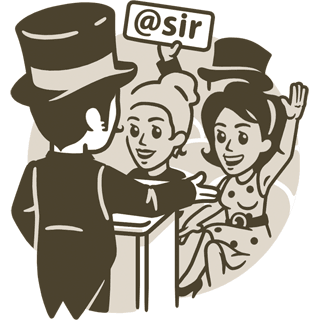 Group chats have not evolved much since they first appeared in messaging apps many years ago. Today's new features bring group chat communication much closer to what it should look like in 2015. iOS, Android, OSX and Telegram Web get them first.
Replies
To reply to a specific message in a group chat, simply tap on it (double-tap on iOS) and choose Reply. Easy as that!
The person you replied to will be notified about your message even if s/he muted the group chat — their notification settings for you personally apply in this case.
Replies also make group chats much easier to navigate. If you tap on the quote, the app scrolls up to the original message.
Mentions
If you want several people within a group chat to get instantly involved in the conversation, you may now also mention them in a message, provided they have a username:
They will be notified about this message, even if they muted the group chat — unless they've muted you personally, of course!
Hashtags
Another new way of bringing structure to group chats is by using hashtags. Any word starting with a "#" will be clickable. Tap on a hashtag to get instant search results from your Telegram messages.
Forwarding with comments
On top of this, you can now add a comment to the stuff you forward. This comment will be shown before the forwarded messages.
---
Group chats are becoming larger and livelier — a Telegram group may include up to 200 members that share thousands of messages daily. We hope that these new tools will help you bring order and clarity to the chaos of a thriving group chat.
March 19, 2015
The Telegram Team